Geplaatst op 01 aug, 13:01h
in
reizen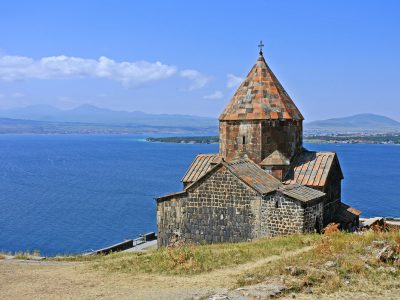 Zo klein als Armenië is, zo indrukwekkend is zowel de geschiedenis als het landschap. Maak dagtrips vanuit hoofdstad Yerevan, of maak een roadtrip per bus of auto.
Dit artikel schreef ik voor Reisbijbel.nl. Lees het hele artikel op www.reisbijbel.nl
Vanuit hoofdstad Yerevan zie je de besneeuwde top van de berg Aarat bij helder weer goed liggen. Hij ligt weliswaar op Turks grondgebied, maar volgens de Armenen is deze Bijbelse plek desalniettemin van hen. De Armenen claimen dat zij de afstammelingen van Noach zijn, en berg Ararat daarom tot hun erfgoed behoort. En voor een landje waar het christendom in de tweede eeuw na Christus als eerste plek ter wereld werd ingevoerd, is die gedachtegang ook niet vreemd.
Hoofdstad Yerevan
Yerevan ligt ongeveer in het midden van Armenië en telt grofweg een derde van de drie miljoen inwoners van het land. Armenië beslaat qua oppervlakte een kleine driekwart van Nederland, waardoor dagtrips vanuit Yerevan naar verschillende delen van het land goed te doen zijn. Bezoek bijvoorbeeld het meer Sevan, het grootste zoetwatermeer van de hele Kaukasus, en het drukbezochte negende eeuwse kerkje Sevanavank dat eraan ligt. Armenië staat bekend om zijn middeleeuwse kloosters op afgelegen plekken. Neem daarom op je dagtrip ook meteen het uit de rotsen gehouwen Geghardklooster (4e eeuw), de Hellenistische Garnitempel (1e eeuw na Christus) en het 1100 jaar oude klooster Hayravank mee.
De dorpjes van Armenië
Helemaal in het zuiden, net over de grens met Iran, ligt het dorpje Meghri. Een typisch Armeens dorpje midden tussen de gepunte bergkammen. In Meghri komen de ouderen samen op het dorpspleintje om de dag door te nemen en leren ouders hun twaalfjarigen autorijden in één van de door Rusland afgedankte Lada's. De omgeving leent zich goed voor één- of meerdere daagse wandeltochten. Overnachten kan in B&B's, waar 's avonds de tafel wordt vol gezet met een huisgekookt maal en zelfgestookte wodka en wijn. De tijd lijkt hier stil te hebben gestaan, ware het niet voor de uitstekend werkende wifi.
Dit artikel schreef ik voor Reisbijbel.nl. Lees het hele artikel op www.reisbijbel.nl